Create your own family fun!
Fishing
The weedy Chemong lake offers a variety of game fish. Pickerel, Muskie, Small and Largemouth Bass, Perch and pan fish abound in the lake. Fishing Photos ...more fishing
Yellow Perch – open all year
Walleye – 2nd Saturday in May to 15 November
Bass – 3rd Saturday in June to 15 December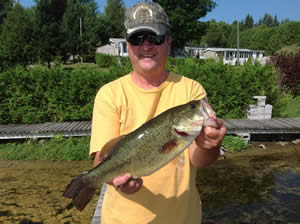 "Hey folks. Check this one out. I caught that one on Saturday evening. I was casting a green spinner bait over a favorite weed bed of mine on Chemong Lake. He was around 4 pounds. If he stayed in the bay after I released him someone will win the derby on Saturday."

Muskellunge – 1st Sat in June to 15 Dec
Sunfish – open all year
Norther Pike – open all year
Crappie – open all year
AFFORDABLE FISHING CARTERS!!
(This is a seperate company from our resort)

Boating
For the boaters, Chemong Lake offers over 250 miles of shoreline for your cruising enjoyment.
The lake is connected to the Trent Canal System, giving you access to many of the beautiful lakes in the region. We also have a boat launch located near the beach for your convenience. Boating Photos
Beach area
For the children and water lovers , enjoy a beautiful sandy beach with a raft and swings.
Swimming
Enjoy a nice relaxing dip in our 40 x 20 heated swimming pool. The shallow end is 3 feet deep and the deep end is 5 feet deep. Great for children!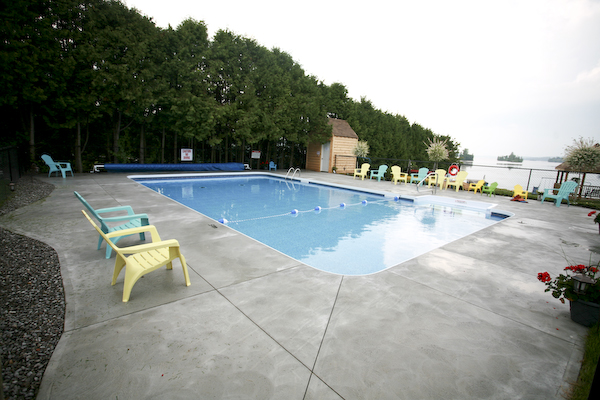 Badminton and Volleyball
There's nothing more exciting than an early evening game of badminton or volleyball just before you sit down to eat with the family by the roaring camp-fire!
Horseshoes
Challenge your partner or kids to a skillfull game of horseshoes!
Skating & Cross-country skiing
Chemong lake freezes allowing skating, cross country skiing and snow mobilers. Snow mobile trails a short distance away.

Organized activities
Here at Lancaster we love to get everyone together to enjoy each others company while playing some games. Throughout the summer, we have sheduled events such as our annual bass fishing tournament as well as card games, backgammon, and horseshoes. Please check your travel times and ask at the office to see what will be available during your stay.